Welcome to Destin Elite Carts!
We Have the Golf Carts You Need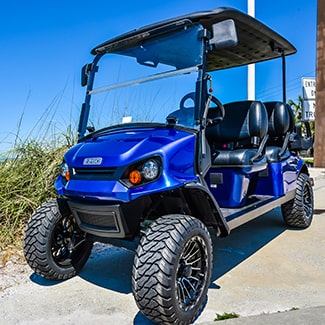 Blue Lagoon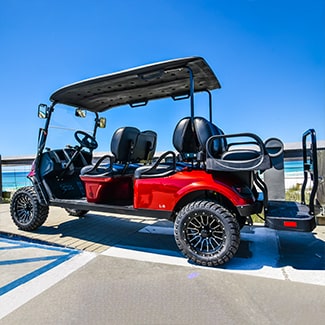 Lady Bug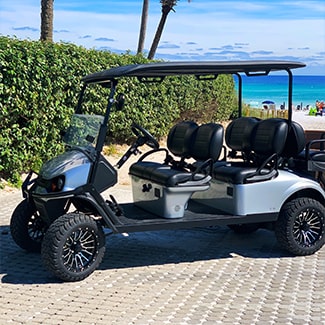 Quicksilver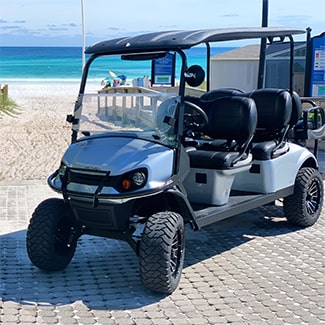 Sea Horse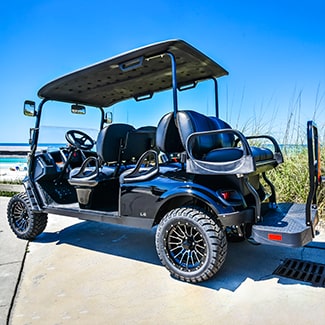 Thunderball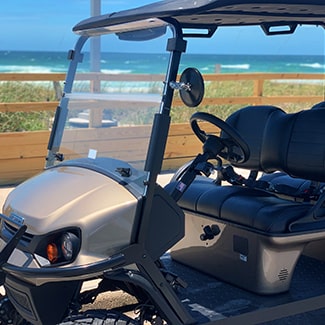 Sand Dollar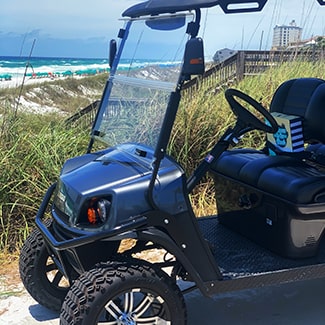 Long Island
Our Commitment To You
Destin Elite Carts is committed to providing exceptional customer service and the best golf cart rentals in Destin, Florida. Our golf carts are delivered to your vacation rental the day you arrive and picked up from the rental the day you leave. Contact us today for weekly or daily rental inquiries!
James Hancock
We couldn't have asked for a smoother process than the one we experienced with Destin Elite Carts. They call the day before drop off and pick up to confirm everything and answer any questions you may have, which I found so helpful. The cart itself was in perfect condition and was enjoyed by all of us. I recommend this company 100%.
Genee Askew
This team was amazing! We walked up on a whim and they didn't have any go carts, but Tracy told us to hang on and went to the back and came back and told it was our lucky day! It was a blast! This team and their customer service went above and beyond to make our trip awesome!
Dan Whitten
Destin Elite was most helpful and friendly service. They took care of our every need. Their carts are fantastic, clean, well maintained, and just fun to explore Destin in. I would highly recommend using Destin Elite Carts and you wont be disappointed. They even deliver and pickup from where you are staying! Thanks Destin Elite! You made our vacation memorable. We will always use you when in Destin. Dan Whitten / Happy Home Videos - Poplar Bluff, MO
Theresa Brittain
The Golf Cart was absolutely perfect for our family of 6. It was clean operated great and the manager and staff were so accommodating. We had a wonderful time and highly recommend Destin Elite Carts!
Angel Erickson
We had the best experience with this company, awesome customer service, Sean was helpful from day one when I rented the cart a month before we came, to Derrick who went above and beyond when he delivered it to us, very cheerful, and ready to answer any question, I will always rent from them from now on, loved, loved the cart and the convenience having it provided for our family of 6.
Alex A
Everyone at Elite cart rentals was super friendly and accommodating! They were able to get us a cart last minute, even when they were booked up. They also gave us a ride back to our place at the end of our reservation. Everyone I talked to on the phone during booking and in person was lovely and a pleasure to work with! The golf carts were in great shape and a super fun convenient, affordable way to get around Destin - including to the grocery stores. Cannot recommend highly enough!
Susan
We had a wonderful experience with our golf cart rental from Sean at Destin elite cart rentals. Our golf cart was pristine and Sean was just one of those wonderful human beings that you were glad you had a chance to cross paths with .We found it very enjoyable to drive up and down scenic highway 98 and explore all the little side streets. We even ventured to some of the many shopping spots and restaurants here in this part of Destin. We'll definitely look forward to our next trip here!
Jim
I had a house rental situation where a golf cart was supposed to be included by the owner (it was in the title of the post), it wasn't there... after calls with the national hotline with people that didn't care and weren't in Destin, I finally got a call 24 hours later that they'd reimburse me / make me whole. Now the review of Destin Elite Cart Rental... Fantastic service and brand new, beautiful street-legal carts. I called around noon on a Sunday for a week rental, it was at my door 2 hours later (and 2 hours ahead of their timeframe)!! Couldn't recommend them more and will be using again - very friendly and professional, no hassle pickup either. Destin is very golf cart friendly. Support this new upstart business!
...
Outlaw Transportation LLC
As a small business owner myself I always check reviews before making reservations. Shaun, was professional and very personable from the second our phone call started. If you are looking for the best price in town with the most up to date, clean and pristine street legal golf cart do yourself a favor and call Destin Elite Cart Rentals you will not regret it. We rented "Sabastian" and thoroughly enjoyed him. Shaun and his staff promised our cart for 9:30 AM and by 9:15 AM our cart was delivered with a full tank of gas and fully detailed. Thank you all for making our stay in Destin the absolute best!!
Natalie
Elite is exactly what this company is. Our group of all ladies was walking and jokingly held out our thumb as one of their carts was passing by. The cart driver (later we find out was the owner) stopped to tell us how we could rent a cart and that it would change our vacation experience. He was absolutely correct. We went online and rented "Sebastian" (they all have names) and it was delivered the next morning by the owner. He gave a great tutorial in case we were not familiar with the golf cart. He picked the cart up on Monday morning. The cart was pristine with a full tank of gas and the service was undoubtedly top notch. Thank you Destin Elite. We will certainly change our vacation again when we come back to Destin!
Atlas Dewatering
If I could leave more than 5 stars I would!!! There is no reason to keep searching for a golf cart... Shaun has what you need!!! Destin Elite Carts is exactly that... ELITE!! Shaun is extremely helpful and a great guy to deal with. We rented the frozen cart, it had a radio, the kids loved it and my wife and I really enjoyed driving it. For the service and cart we had I feel bad we didn't pay more!!! Love this company will absolutely be using Shaun's carts anytime we're in Destin!!
Sheryl
Awesome customer service ! Brought the cart right to us. My grandkids had the best time up and down old 98 and could even fall asleep on their ride! Highly recommended and can't wait to do it again!
Flexible & Affordable Golf Cart Rental Pricing
Our golf carts are clean and full of gas. Our flexible and affordable pricing options makes it easy for you to enjoy your dream Florida vacation in style and ease! Your street legal golf cart will be delivered and picked up from your vacation rental.
- No hassle services
- Detailed and full of gas
- All carts are gas and 6 passenger
- The 3rd-row seat can fold flat to carry your gear to the beach
Street Legal Golf Cart Rentals in Destin & Miramar Beach
Destin Elite Carts rents Golf Carts in Destin, Miramar Beach and surrounding areas. Once you select your dates and book your Elite cart, we deliver to your rental the day you have requested.
We deliver only 2 Day or more rentals. 1-day reservations must be picked up in person.
Our Carts are 6 Passenger Gas and are Like New
All of our carts are 6 passenger gas and are like new! Destin Elite Carts are street legal and can be driven on all roads in the Destin and 30A area (Except Highway 98/Emerald Coast Pkwy).
There is front row parking at most establishments making it easy and fun to enjoy your vacation with an Elite Cart!
Free Delivery & Pick Up At Your Rental Location
We will include a free delivery and pick up at your rental location on all reservations of 2 nights or more. One day reservations may be made on a 'first come first serve' basis in our shop as inventory allows.
Golf carts are delivered between 11am and 1pm and picked up between 8 am and 9am.